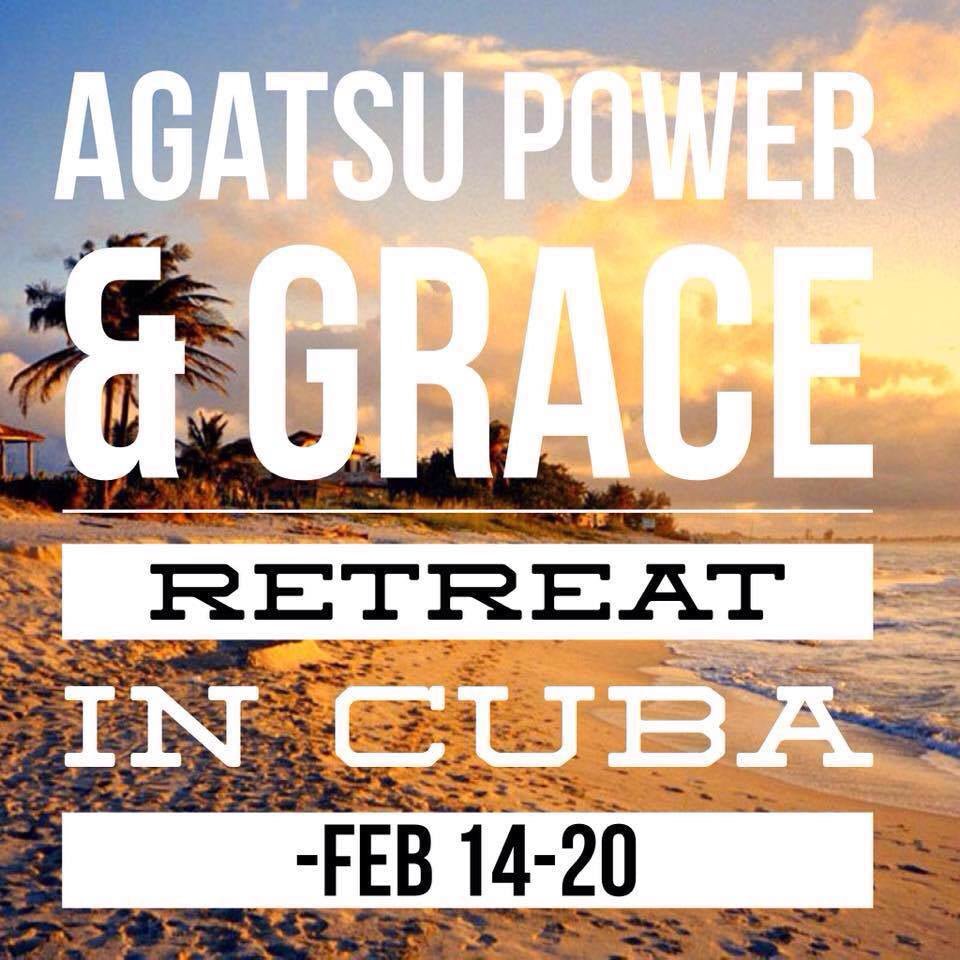 Cuba Retreat!
Agatsu Power & Grace Retreat Series for Women Only
YES YOU CAN!
*Can you eat healthy without starving yourself- YES YOU CAN
*Can you meet your fitness goals even if you can't make it to the gym- YES YOU CAN
Join us for 5 days in paradise and get the tools you need to succeed in fitness and nutrition. Transform more than your body. Transform your lifestyle and become all that you have ever wanted for yourself.
5 days of workshops in the following disciplines:
-Nutrition: No stress approach to nutrition. A mindset, not a diet. Learn how and why having no stress surround your nutrition is the best you can do for your health and performance.
Bodyweight Strength Training: No time to hit the gym? No problem. Learn the secrets to developing an incredible body with or without equipment.
Learn the 6 foundational principles that you must have in order to get strong, stay strong and avoid common injuries.
Hand balancing for beginners and intermediate levels.
Mobility and flexibility for back pain, tight shoulders & hips. Training should heal and not hurt. Let us show you how to avoid common training mistakes in yoga, gymnastics and weightlifting that can lead to injuries and plateaus.
Mediation & recovery: In our busy world relaxing is quickly becoming a lost art. Learn meditation and breathing techniques that will support stress management and help you recover fasters and move effectively from your work and training.
After the week you will get:
A review of your fitness and nutrition goals/concerns as well as an assessment of one full week of your current nutritional habits to provide you with a starting point.
*Service provided by the Tune-In Nutrition Team: Paluna Santamaria and Lovedeep Dhunna via email*
Agatsu 6 week bodyweight training program (no gym needed)
Your "Train-cation" experience also includes outings to:
Havana & it's rich culture
Organic gardening; visit and learn about sustainability, the organic movement and agriculture in farming for yourself.
Kite surfing (weather permitting) 3 classes/2hrs each over 3 days (total of 6hrs of class) after that student has 2hrs included with the kites for free time and practice.
Optional 1 Hour rejuvenation facial extra $30
Cost is only $1950

REGISTER HERE
**Flight not included**
Your trip will include:
6 nights, 5 days of classes (feb 14-feb19)
3 freshly prepared organic meals daily. All meals are organic, from the local gardens in Havana, and there is always a 100% vegetarian option.
Unlimited coffee/tea/smoothies
You will be staying in Harmony Villa (Villa Armonia in Spanish) where you will have access to:
• 2 Swimming pools
• Grocery store
• Juice & coffee bar open 24/7
Main house contains:
• Meditation room
• Small library
• Main lounge
• Main dining hall
• Kitchen
Guest villas include:
• 2-3 bedrooms
• Each bedroom has its own private en suite bathroom
• Full kitchen
• Dinning room/living room
• Green space
• Outdoor lounging terrace
• Steps away from the beach
• Laundry available at an extra cost
• Electric supply 110 volts
• All beddings, bath towels, pillows and toiletries are provided. However, if you have specific pillow needs please bring your own
Instructors
Sara-Clare Lajeunesse is the Technical Director for Agatsu Joint Mobility & Movement Program and also teaches at Agatsu HQ in Montreal. Her clients range from athletes, seniors citizens, chemotherapy patients to mentoring troubled teens. Her background and training includes:circus arts (hand balancing and hand to hand partner balancing), gymnastics, olympic weightlifting, ashtanga yoga & jiu-jitsu. Sara-Clare truly believes that anything is possible if you're willing to work for it. It may not happen tomorrow or the next day, but as someone wise once told her only "perfect practice makes perfect". Her clients and class participants learn to heal their bodies through movement, building a strong foundation for fitness for life.
Paluna is a movement enthusiast by nature. As a child she participated in martial arts as well as being part of a swimming team for three years. Always an athlete she went on to play basketball for 4 consecutive years in high school as well as completing a Bachelor degree in Arts with a specialty in modern dance. She spent the years following graduation as a dancer, aerial performer and Pilates teacher. In 2005 she moved to Canada and decided to pursue her career in the fitness industry full-time. She is now a certified Personal Trainer with additional training in Yoga, Pilates, Kettlebell, Pre/Post natal, Weightlifting and Nutrition. She has dedicated thousands of hours to studying various styles of Yoga including Hatha, Vinyasa, Restorative, Pre-natal as well as Yoga philosohy. Her Pilates training includes additional courses in osteoporosis, osteoarthritis, scoliosis, breathing mechanics, neurophysiology of Pilates among others. She enjoys participating in intense forms of training and has had the pleasure of practicing olympic weightlifting, basic gymnastics and strongman.