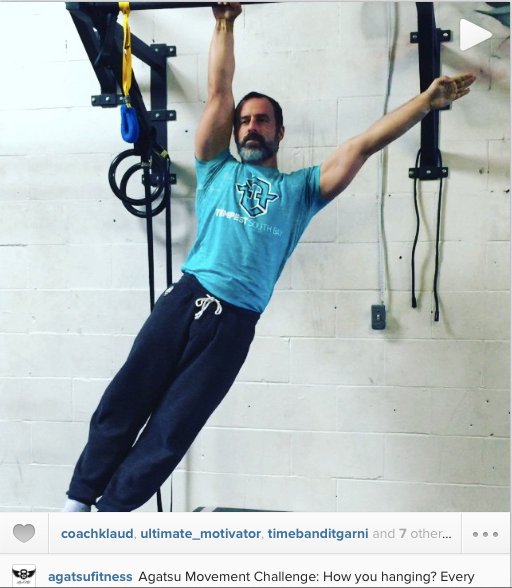 Agatsu Movement Challenge Week 2
Each week we will release a new video on our blog and Instagram accounts. These movements are not simply show off tricks that have become so popular on social media but rather they are meant to shine a light on your personal practice. We truly are only as strong as our weakest links and you need to challenge yourself to try new movements to discover what those weak links are. While many people are frustrated by movements that they can't perform their reaction should be of joy since their new discovery if trained properly will lead them to even greater potential. So lets all train together and take the Agatsu Movement Challenge.
"Change your movement and you change your life."Shawn Mozen
Awesome stuff from everyone last week!! Our social media
Instagram
and
Facebook
were lighting up with people sharing clips of them performing exercises from last week. We loved seeing all of your videos and really loved seeing all of your classes doing these challenges. Keep those videos coming! Each week we will feature your clips on our Twitter, Instagram and Facebook. Be sure to tag @agatsufitness on twitter and instagram and our Facebook account for us to repost your clips.
This weeks challenge: How you hanging?
Every week you work your pushing and pulling strength but how's your hanging? Often overlooked and incredibly important part of building a well rounded strong body is the ability to hang. This weeks challenge is to hang from a bar, shoulders depressed and retracted, hold for 15 (video is short since instagram only allows 15 seconds-if you have an iphone use the time lapse feature when you record your videos to get the entire thing in) then release one hand and hold the same shoulder position (You will know if you have maintained the position because you should remain still and not rotate) then go back to two hands and then switch to the other side and hold for another 15seconds. For more advanced challenge hold each position for 30 seconds. Many of you asked for us to post regressions for these challenges and this video includes an advanced version of the hand removed and a regressed one. For beginners struggling to hang with one hand you can use a band, rope, or towel. As you take your hand off the bar transfer it to the rope and use it for assistance. The lower you are on the rope the less help you will be getting.