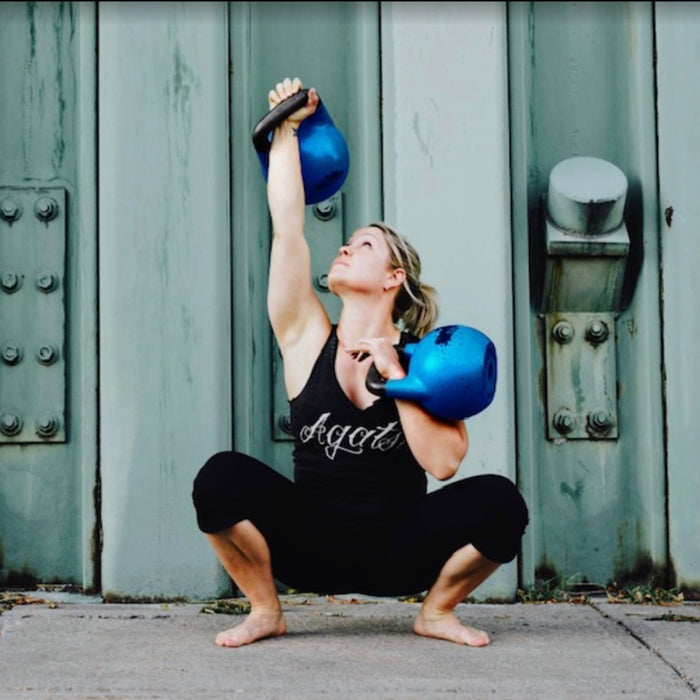 Mississauga Kettlebell Instructor Certification
Save

20

%
Save

20

%
Original price
$566.00
-
Original price
$566.00
EARLY BIRD PRICE ON NOW! REGISTER TODAY TO SAVE $150 OFF THE REGULAR PRICE. EARLY BIRD PRICE ENDS WITHOUT NOTICE
Take your Kettlebell training to the next level with the company that brought them to Canada. Agatsu has been a world leader in professional development for trainers for years and our Kettlebell program offers one of the most sought after trainer certifications.

A gold standard in Kettlebell training the Agatsu program is the most comprehensive program offering instruction in both high volume and high tension methods along with their integration in an overall fitness practice. Unlike other stand alone programs ours was designed to help trainers understand the pivotal role that Kettlebells can play in developing well rounded generalists and our Kettlebell training seamlessly integrates with our other programs.
Kettlebells are a time tested tool that have built strong bodies for decades. Kettlebell practice will build endurance, strength, coordination, an iron grip, and will help you develop a lean strong body.
Start making money doing what you love.
DATE: MARCH 16-17
Location
Movati Mississauga
6685 Century Ave, Mississauga, ON L5N 7K2
Time: 9:00am to 5:00pm
What you can expect to from the certification weekend:
-Explore the fundamental Kettlebell exercises and how to break them down and teach them to anyone.
-Learn how to incorporate joint mobility drills, bodyweight exercises and Kettlebell training into a complete fitness routine.
-Learn how to create sport/goal specific programs for your clients.
-Develop and refine your Kettlebell technique through hands on guidance and correction from other instructors.
**Registration is a guarantee of your reserved spot for an Agatsu seminar. Once you confirm your registration you are taking one of a limited number of spaces and as such there are no refunds or transfers in the event that you must cancel. If you are unable to attend you can sell your spot and let us know who will be taking your place
**BONUS OFFER***
Introducing our Pro Instructor Package – the ultimate solution to take your personal training business to unprecedented heights!
With this package, you'll gain access to a treasure trove of invaluable resources that will transform your learning journey, supercharge your networking opportunities and get you the business exposure you deserve.
The Pro Instructor's Package Includes:
-Instructor profile listing that link directly from our site to yours. Gain exposure and recognition with Agatsu's established online presence as a certified instructor by appearing on our searchable database.
-Access to comprehensive course instructional videos providing you with the opportunity to watch and rewatch valuable lessons.
-Private Pro Package Instructor's Support Forum. You can use this to network with other pro instructors and you will have immediate access to Shawn or myself for any questions you might have. 
-Use of the Agatsu logo for your marketing.
-Database listing and package materials are valid for 1 year and can be renewed. Listing will be activated upon successful completion of your Agatsu Certification.
Position yourself as fitness authority in your area with the Agatsu Pro Instructor's Package. Harness the Power of Agatsu's Name to Attract and Impact Your Ideal Clients and grow your business!